Mobile Ballet's 2020-2021 Reimagined Season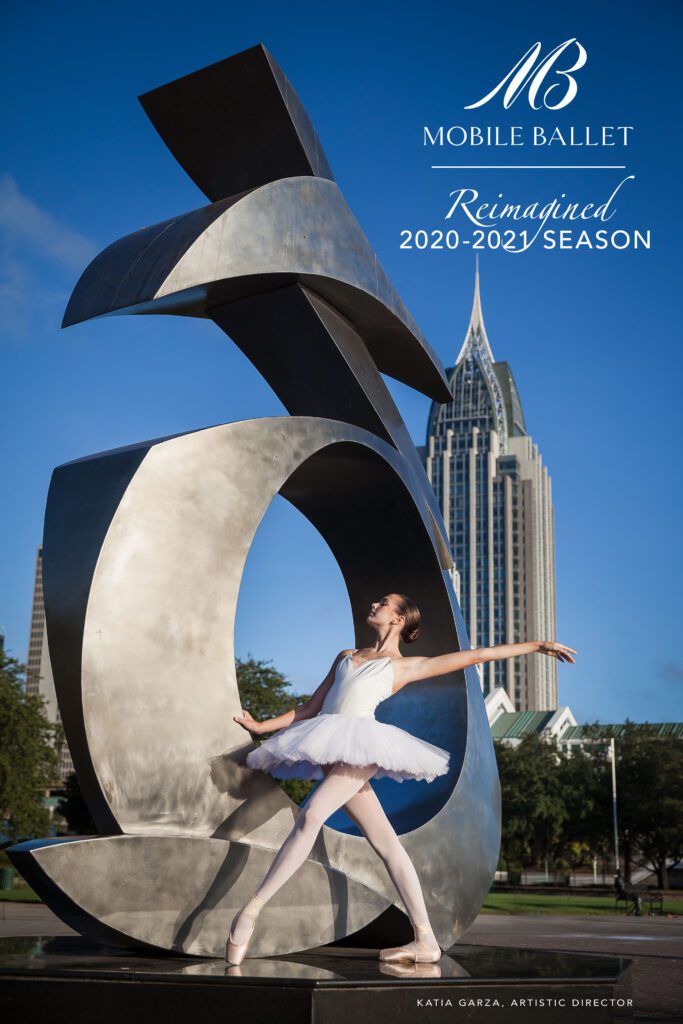 Mobile Ballet Presents a Season Reimagined
Safely Spaced or Vibrantly Virtual – Performances, Training and Outreach Dance On
Navigating a global pandemic has been a dance… for all of us.  With a priority on the safety of our dancers and patrons, Mobile Ballet postponed performances and offered virtual class instruction once COVID-19 dropped the curtain on life as we knew it last spring. Just as our community needed the inspiration and solace the arts so uniquely provide, we were forced to retreat.  Now, we reimagine.  Mobile Ballet's 2020-2021 "Season Reimagined" includes plans to present our most beloved performances in an innovative combination of safely spaced and vibrantly virtual audience options.
Performances:
December 18th-20th – The Nutcracker.  The unmatched tradition and magic of The Nutcracker continues this Christmas season with a presentation both in the theater and online.  Mobile Ballet has made this beloved masterpiece a hallmark of the holidays for more than 30 years and 2020 will be no exception.  We are working closely with the City of Mobile and Civic Center management in a safely spaced theater seating plan for in-person audience.  A virtual Nutcracker experience will also be available.
March 19th-21st – Beauty and The Beast.  This original production by Artistic Director Katia Garza celebrates the 18th century tale with new choreography, exquisite new costume and set designs, and some of Mobile Ballet's favorite guest artists.  Generations of children have loved this tale as old as time… in a love story at first terrifying but ultimately joyously beautiful.  We're thrilled to bring this COVID-19 postponed performance back at last.
Additional special events and special free community performances are also being planned — look for future announcements!
The pandemic leaves the nation's arts community dotted with seasons that never were, shows that never opened and productions that closed mid-run. Only the Spanish Flu Pandemic of 1918 can measure a similar blow to live performance. We are far from alone in our struggle to continue not just performances but the instruction and training essential to our dancers.
Artistic Director Katia Garza and Ballet Master Israel Rodriguez led free online classes that captured new audiences seeking dance training options while homebound. Mobile Ballet's dedicated faculty led virtual instruction and re-arranged in-studio classes to greatly reduce the number of students. Painful decisions were made to postpone or cancel productions as well as the Nutcracker Charity Ball, a treasured tradition and the Ballet's largest fundraiser. All this as our studio needs expansion, many students need scholarship support, and the community needs our performances as a vital part of Mobile's economic engine and quality of life.
Adjusting, adapting, and planning to configure classes safely and envision a new season has been a challenge to both finances and imagination. A challenge our sister organizations in the Mobile Bay Area are facing as well. Please consider making a donation to your local arts organizations now to support the cultural fabric of our community. Mobile Ballet is working in partnership with the City of Mobile in building arts alliances that keep us stronger together and more vibrant than ever before. We look forward to sharing more soon.
Dance on!
What's New?
A Look Back at Mobile Ballet's 2021-2022 Season Learn more >>
Mobile Ballet's 2020-2021 Reimagined Season Learn more >>
Mobile Ballet 2019-20 Season Opens with Katia Garza's Final Principal Role in Giselle Learn more >>