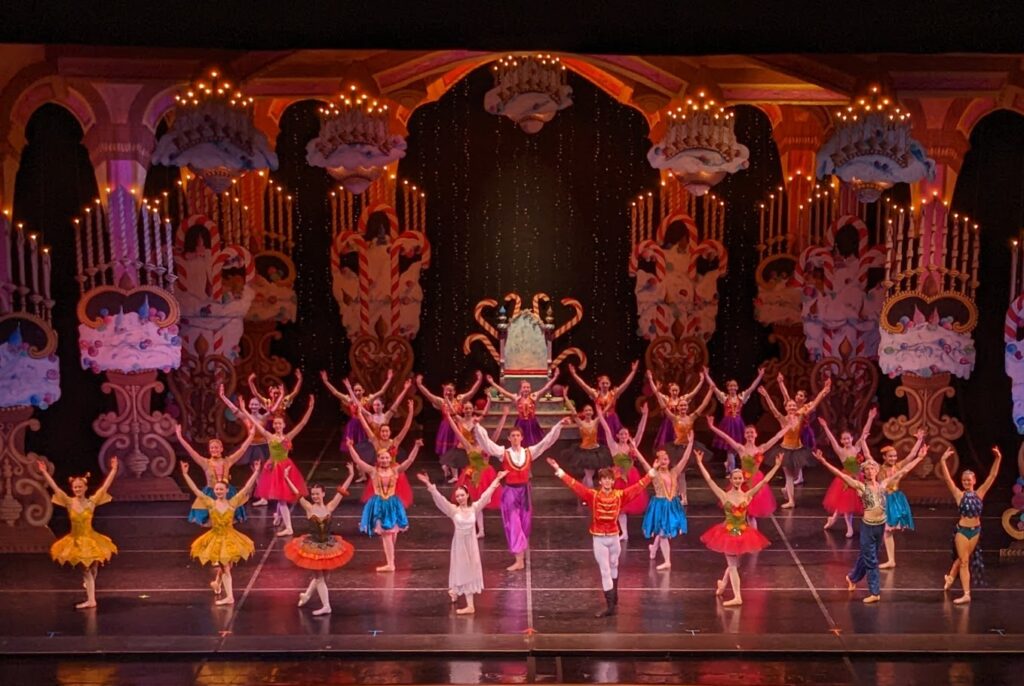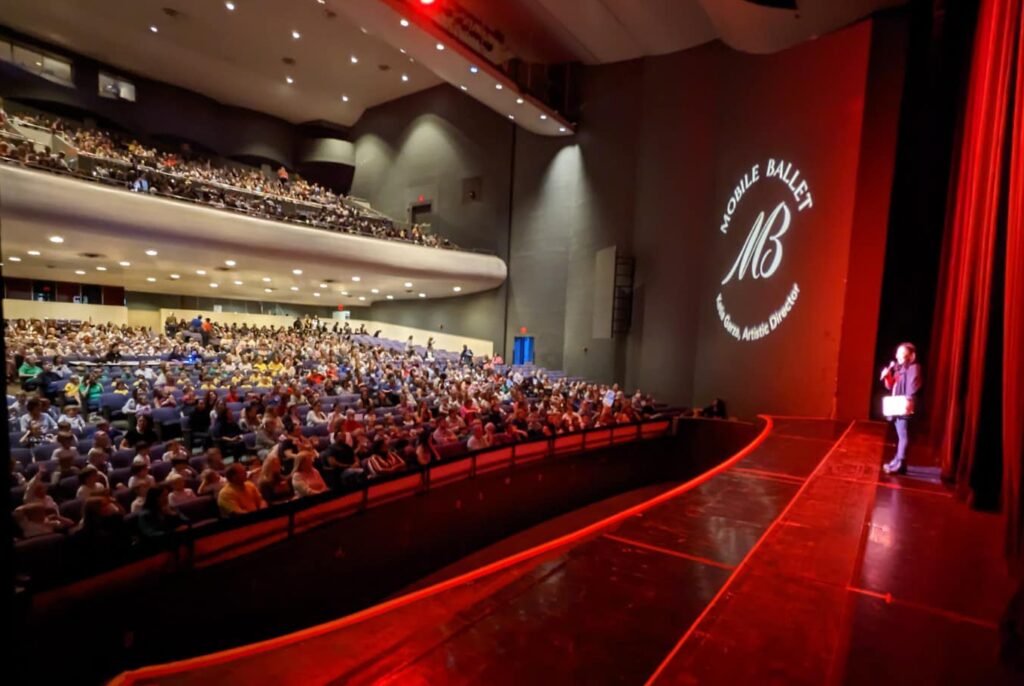 Mobile Ballet's Discover Dance Program 
Discover Dance is one of Mobile Ballet's long-standing traditions, offering live, fully-staged performances for K-12 students at a greatly discounted rate of $5 for students and free for their teachers.
The Discover Dance experience is made richer through the use of a comprehensive teacher's guide, which includes the history of the ballet being presented, information about the composer, a glossary of ballet terms, photos, explanations of various ballet steps, and ways to integrate the story, history, and production of ballet into classroom curriculum.
Following each production, we provide an evaluation survey to teachers for their feedback, and we welcome any examples of students' work from assignments or projects inspired by the Discover Dance field trip experience.
Along with the Mobile Ballet Corps de Ballet, performances include outstanding guest artists from New York City Ballet, American Ballet Theatre, and other world-renowned companies in the principal roles.  Student audiences not only enjoy an excellent cultural event, they also are privileged to watch some of the world's best dancers perform right in their own community.
Along with professional performing artists, the majority of dancers cast in Mobile Ballet performances are local students, from elementary through high school age, who train at the Mobile Ballet School in Mobile and Daphne. A profoundly impactful part of the Discover Dance program is when students have the opportunity to see professional practicing artists, and realize that alongside the professional performers are talented dancers close to their own age from their own community or school.
We believe that exposure to the arts is a vital part of every child's education. With drastic cuts in education funding, the arts often are the first to be eliminated from the curriculum. Discover Dance helps bridge that gap, bringing the joy of the performing arts to those who otherwise might not have the opportunity to experience it. The positive impact of arts education continues over time, with a significant connection between arts engagement and success in academics and in life.
"There is clear evidence that the arts contribute significantly to education and play a key role in the development of twenty-first century skills like critical thinking, creativity, communication skills and collaboration skills, which are highly sought by all industries. Participation in the arts builds confidence, which positively impacts students and translates to other disciplines outside of the arts. Not all students will become professional artists, but the arts play a critical role in the development and success of every student."
—Elliot Knight, Executive Director, Alabama State Council on the Arts
School reservations for Discover Dance field trips may be made by filling out the reservation form here:
MINIMUM OF 10 STUDENTS REQUIRED FOR RESERVATION
Reservations may also be made by contacting Kendra Utsey, Office Manager, at office@mobileballet.org or 251-342-2241.
DISCOVER DANCE PERFORMANCES – 2023-2024 SEASON:
The Nutcracker
Mobile Civic Center Theater
Thursday, December 7, 2023 – 9:30 a.m.
Friday, December 8, 2023 – 9:30 a.m.
Sleeping Beauty
Mobile Civic Center Theater
Friday, March 22, 2024 – 9:30 a.m.
Mobile Ballet's Discover Dance program is funded in part by the Alabama State Council on the Arts, City of Mobile, Community Foundation of South Alabama, Mobile County Commission, The J.L. Bedsole Foundation, The Robert and Joanna Cunningham Charitable Foundation, The Crampton Trust, and others. We are grateful to our donors for their generous support!
What's New?
A Look Back at Mobile Ballet's 2021-2022 Season Learn more >>
Mobile Ballet's 2020-2021 Reimagined Season Learn more >>
Mobile Ballet 2019-20 Season Opens with Katia Garza's Final Principal Role in Giselle Learn more >>